GERMANY PREMIERE – The new « Panda 5000i.Neo »

Innovative engine and generator technology with variable speed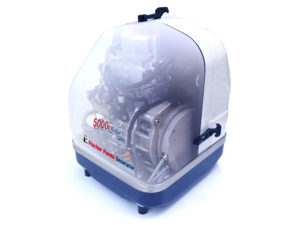 In the past two years Fischer Panda has developed its own diesel engine with variable speed. Our aim is to produce a generator with 4 kW that will meet all required exhuast certifications.
The new water-cooled, 1-cylinder engine FPE 320 celebrated its German premiere at boot Dusseldorf 2016. The first generator with this innovative engine will be available in the third quarter – the new Panda 5000i.Neo.Like all Fischer Panda inverter generators with variable speed control, the new model « Panda 5000i.Neo » is characterised by its high efficiency, quiet operation and compact design. Thanks to the inverter technology use – exhaust emission and fuel consumption are significantly reduced.
In comparison to other diesel engines in this performance class – the FPE320 engine is ALSO equipped with an oil filter.
During the course of 2016,  the synchronous Panda 4000s generator is planned to be fitted with the new motor as well. A vehicle version is also planned.
Bullets:
– Panda 5000i.Neo
– 4 kW generator
– own Fischer Panda Motor FPE320
– Germany Premiere
– suitable for the US market
– motor suited for Panda 4000s – entry generator